Ubiquiti UniFi 48 Port PoE Pro Switch (USW-Pro-48-POE)
Ubiquiti UniFi 48 Port PoE Pro Switch (USW-Pro-48-POE)
-(8) Gigabit RJ45 802.3bt PoE++ ports
-(40) Gigabit RJ45 802.3at PoE+ ports
-(4) 10G SFP+ ports
-Layer 2 and Layer 3 features
-600W maximum PoE power
-UniFi SmartPower RPS DC input
-Near-silent cooling
-1.3″ touchscreen display
-Managed by UniFi Network Controller
Buy at Best and Discounted prices in Nairobi kenya
Description
Ubiquiti UniFi 48 Port PoE Pro Switch (USW-Pro-48-POE)
The Ubiquiti UniFi switch USW Pro 48 POE is a Gen2, configurable, Gigabit Layer 2 and Layer 3 switch with auto-sensing 802.3at PoE+ and 802.3bt PoE++.
Ubiquiti UniFi USW-48-PoE Pro Switch Key Features
48 x 10/100/1000 RJ45 ports
(1-40) IEEE 802.3af/at PoE+ ports
(41-48) 60W IEEE 802.3bt PoE++ ports
4 x 1/10G SFP+ Ethernet Ports
1.3" touch LCM to provide status information
Near-silent cooling
40 PoE+ and eight PoE++ RJ45 ethernet ports have total 600W PoE budget, and four SFP+ ports offer 10Gbps uplink options. Other benefits include near-silent cooling and a 1.3″ touch screen LCM display.
Note: Layer3 will be included in later software release.
Near silent cooling
Ubiquiti's new airflow design reduces the need for fan usage.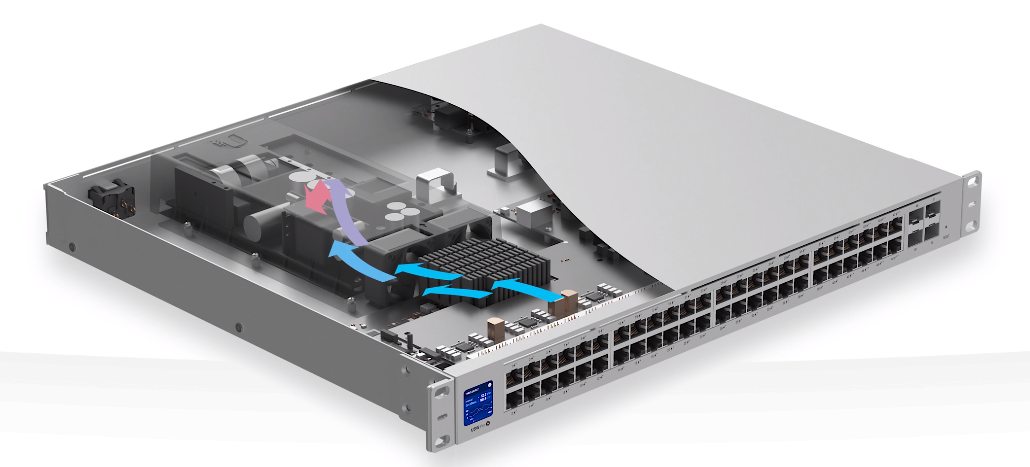 Powerful hardware and software
Ubiquiti UniFi Gen2 Switches offer a variety of features, including 10G SFP+ ports, PoE+ or PoE++ support, and Layer 3* switching capabilities (*Layer 3 switching will be available in a future software release).

UniFi SmartPower RPS, USP-RPS, is Ubiquiti's PSU failover system.
In the event of a UniFi switch power supply failure, the USP-RPS automatically supplies redundant power to the failed device. One UniFi SmartPower device can support up to 6 devices until the failed device is replaced.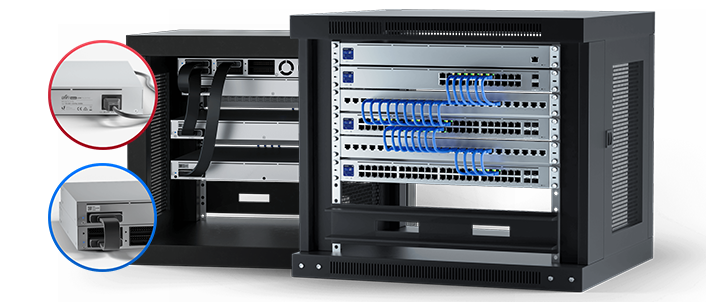 Touch screen display
The 1.3″ touchscreen display allows easy monitoring and quick troubleshooting.

Ubiquiti UniFi UniFi USW Pro 48 POE Technical Specification
Product Specifications
Dimensions: 442.4 x 399.6 x 43.7 mm (17.42 x 15.73 x 1.72″)
Weight: 6.25 kg (13.78 lb)
Weight with Rackmount Brackets: 6.34 kg (13.98 lb)
Interfaces: (48) 10/100/1000 RJ45 Ports
Networking: (4) 1/10G SFP+ Ethernet Ports
Management: Ethernet In-Band
Power Method:
– Universal Input: 100-240VAC/50-60 Hz
– USP RPS DC Input: 52VDC, 11.54A; 11.5VDC, 5.22A
Power Supply: AC/DC, Internal, 120W
Supported Voltage Range: 100 to 240VAC
Max. Power Consumption (Excluding PoE Output): 60W
LEDs:
– System: Status
– RJ45 Data Ports: PoE; Speed/Link/Activity
– SFP Data Ports: Link/Activity
ESD/EMP Protection: Air: ± 16 kV, Contact: ± 12 kV
Shock and Vibration: ETSI300-019-1.4 Standard
Operating Temperature: -5 to 40° C (23 to 104° F)
Operating Humidity: 10 to 90% Noncondensing
Certifications: CE, FCC, IC
Sound level*(* Background noise level: 27.5 dBa)
25% PoE, 25° C: 0.9 dBr
50% PoE, 25° C: 7.3 dBr
100% PoE, 40° C: 22.5 dBr
PoE
PoE Interfaces:
– Ports 1-40: POE+ IEEE 802.3af/at, (pins 1, 2+; 3, 6-)
– Ports 41-48: 60W PoE++ IEEE 802.3bt, (Pair A 1, 2+; 3, 6-) (Pair B 4 , 5+; 7, 😎
Max. PoE Wattage per Port by PSE:
– 802.3at: 32W
– 802.3bt: 64W
Voltage Range 802.3af Mode: 44-57V
Voltage Range 802.3at Mode: 50-57V
Related products