Hikvision's ColorVu technology helps users protect people and property by capturing high-quality, full-color video 24/7 with the same sharp rendering at night time as in daylight. Now, combine ColorVu with ("+") other Hikvision's advanced technology ("X") and amazing possibilities emerge. In other words, as one plus one equals amazing!
That's how "ColorVu+X" works, delivering unmatched value to the security market with more options than ever. Cameras powered by these technologies render clear imaging with vivid details for video evidence, improved alarm accuracy for real security threats, and video search efficiency, taking your security above and beyond what was previously possible. Versatile products and solutions are introduced with optimized performance to tackle more common security concerns in residences, office buildings, parking lots and many more.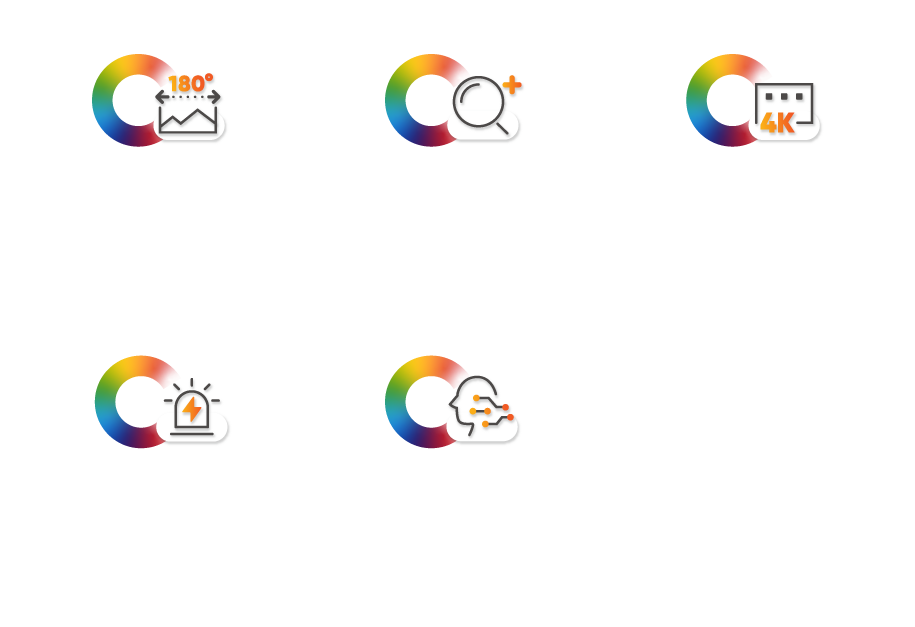 ColorVu + Panoramic
The whole scene in vivid colorExpanding the boundaries of brilliance with a full picture
ColorVu + Varifocal
Zoom in with vivid colorChangeable focal lengths for more scenarios
ColorVu + 4K
Capture richer, more colorful detailsCrisp and clear imaging along with fluid preview and playback
ColorVu + Live Guard
Day and night protectionVisual and auditory warnings on-site with real-time notifications
ColorVu + Deep Learning
Smarter detection around the clockTaking alarm accuracy and search efficiency to a whole new level
How does ColorVu+X improve security?
Play00:0000:07MuteSettingsPIP Enter fullscreenPlay
The whole scene in vivid color
Hikvision's panoramic cameras with ColorVu harness pioneering pixel-level image registration technology with Hikvision's image fusion algorithm to stitch together a 180-degree horizontal field of view, delivering brilliant and seamless panoramas with more lively details. Wide-area security footage helps improve situational awareness and reduces the amount of cameras required for comprehensive monitoring, aiding
Zoom in with vivid color
Varifocal cameras adapt to various scenarios by changing the camera's focal length. Hikvision's Varifocal Cameras with ColorVu are designed with fixed F1.0 large aperture, which guarantees image brightness while the camera zooms in or out. Play00:0000:47MuteSettingsPIPDownloadEnter fullscreen
Capture richer, more colorful details
ColorVu-enabled cameras render vivid color images in dim light, even down to 0.0005 lux – that's the same lighting as a moonless, starlit night. This incredible capability to intensify minimal ambient light is achieved through two advanced features:
F1.0 Super Aperture – Capturing as much light as possible for the sensor
1/1.2" Large Sensor – Maximizing the use of available light
Smarter protection all around
Combining ColorVu technology with AcuSense, cameras are able to capture human & vehicle targets with vivid color. Connected to Hikvision's back-end products, users will enjoy improved details in video playback and more efficient footage searches.
AcuSense-powered Motion Detection 2.0 distinguishes human beings and vehicles from other objects in any given environment, focusing on real security threats, and enables efficient video searches. Models equipped with Live Guard deter trespassers with visual and auditory warnings while sending notifications to users remotely.
Nighttime performance comparison
Cameras with ColorVu vs. Conventional cameras
Watch this video to see round-the-clock performance of cameras with ColorVu compares to conventional security cameras.